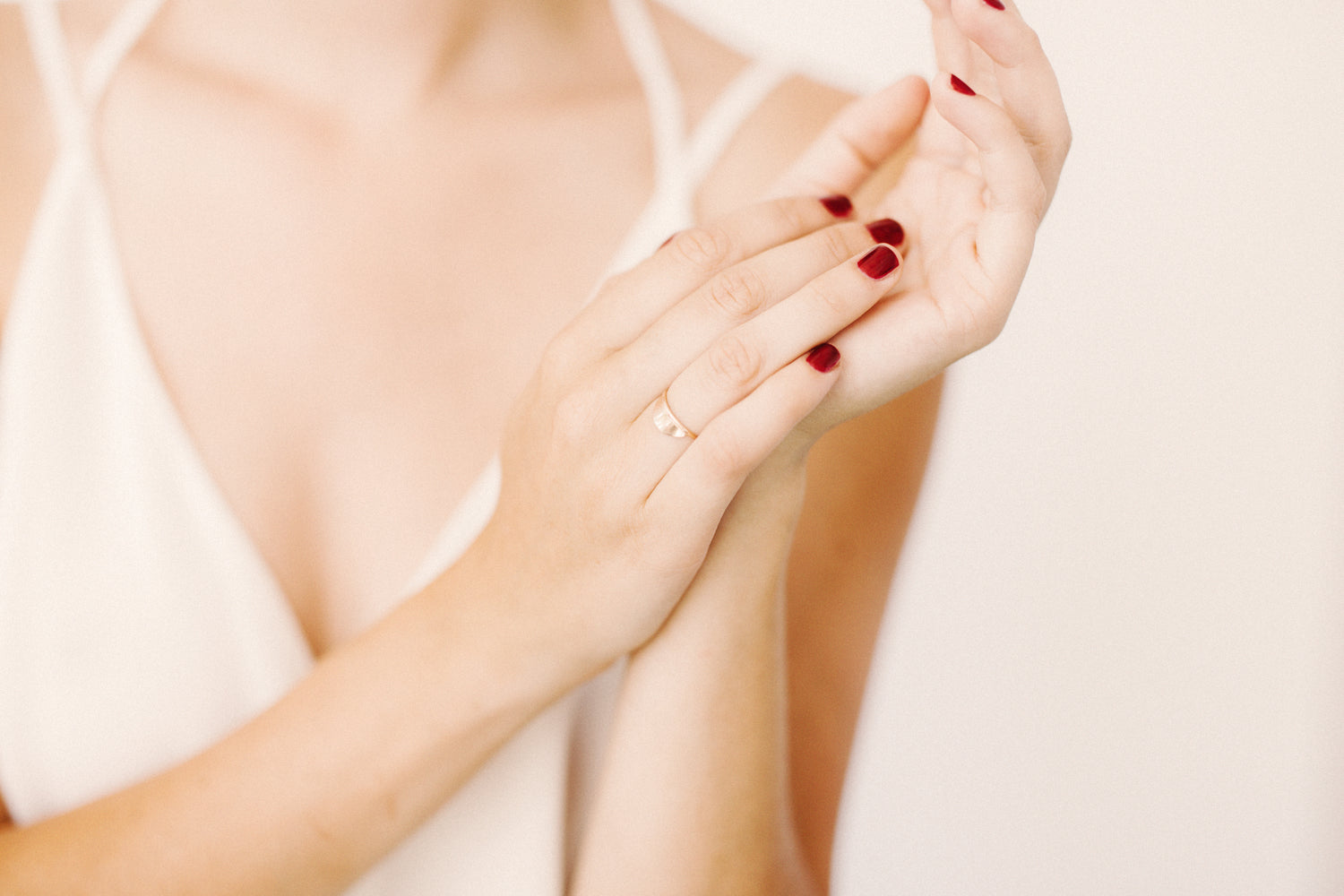 Half Moon Lovers Jewelry Set
---
Made with recycled brass milled in the USA
Handmade for you in Portland, Oregon
A few of our favorite pieces are now available in one set, making a perfect set for the moon lovers in your life. These pieces can be purchased separately, but when they look so good together, why would you?

The Horizon Half Moon Hair Pin is a graceful classic that works with all hair lengths and most hair textures (if your hair is very smooth and straight, you may need to add texturizing spray or curls).

The Half Moon Horizon Posts feature little half-circles of metal sit on secure ear posts to make a minimal, graphic post. Universally flattering, hypoallergenic, and easy to wear every day, these are great for creating interesting combinations if you have multiple ear piercings. They measure 0.3".

The Semicircle Fragment Ring is one of our long-time bestsellers. It's gorgeous on its own and shines when stacked with other rings. It measures about 0.5" wide on a 1mm band.
YELLOW BRASS

Our brass is the highest graded alloy and it comes from mills in the American Southwest. Brass is a very similar color to 14k gold but is a harder material and more resistant to scratches. We wax all of our brass to slow the rate of tarnish, but natural brass does have a tendency to patina and darken with time. We love this about brass, but if you'd like to keep it in its shiny state, you can easily wipe it clean with a polishing cloth. You can also wipe your darkened yellow brass piece with a solution of white vinegar and salt to dissolve the discoloration. It will make your fingers smell like vinegar, but it's handy when you don't have a polishing cloth!

We never use brass in our ear posts, ear wires, chains, or rings, since direct contact with the skin can cause a green reaction. It is completely harmless, but annoying, so we avoid it altogether! 

WHITE BRASS

Sometimes called Nickel Silver or German Silver, this alloy is made with brass and nickel to give it its silvery color. It does not contain actual silver. It is very hard, resistant to scratches, and stays shiny for a long time. It will develop a patina with time (albeit slowly!). It can be polished with one of our polishing cloths. White brass does not like contact with chlorine. Our white brass is milled in the American Southwest.

If you have a nickel allergy, it is not advised to have direct skin contact for long periods of time with this metal. It is still okay touch the metal if you have an allergy. Nickel is not harmful unless you have a nickel allergy, and even then, the allergy will subside if the metal is removed from your skin. We only offer white brass hair pins to minimize skin contact.
We make every piece to order. New orders are shipping in 2-3 weeks.

Standard US shipping takes 5 business days to arrive.
Priority US shipping takes 2-3 business days to arrive and includes $100 of insurance.
International rates and timeframes very.

Details about our Shipping & Handling
Return for refund within 30 days or exchange for store credit up to 6 months. Processing time: 1-2 weeks.

Exchanges and refunds are not available for pieces marked as final sale.
You made what I've been looking for! As others have responded, I am in a messy topknot for most of my days. It also holds well. I slept in it and woke up with same messy topknot but with a bit of glam attached and hell yes 💚. Understated and regal at the same time.
I was looking for ways to style my hair for work that it looked a little more put together than what I had been doing lately (hello, pony tails and plastic claw clips) and this is exactly what I needed! So simple yet elegant.
I love this product! It is beautiful, sturdy, and perfect for when I don't have a lot of time to get ready (i.e. everyday).
I've never had a hair pin before this, but it makes it so much easier to get a chic updo with this! My hair is pretty thin and slippery, so it did take me awhile to figure out how to use it, but now it's an everyday staple.